Sportsoul Participate in 2021 China International Sporting Goods Expo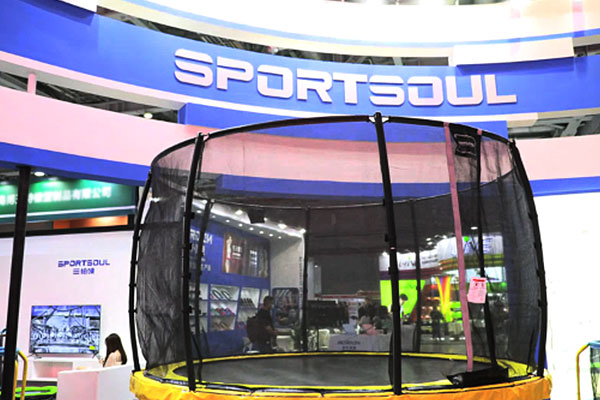 On May 19th, 2021 (39th) China International Sporting Goods Expo had a grand opening in Shanghai National Convention and Exhibition Center, and Qingdao Sampaxo Health Science and Technology Company Limited made a shining appearance with a brand-new VIS system.
VIS System
Over the past 20 years, from birth to transformation, Sportsoul has witnessed the development of China's sports industry and followed the pace of innovation step by step, creating a miracle of development from 0 to N. With the world's leisure and fitness products in 2020, Sportsoul has become the first company in the world to be recognized as a leader in the sports industry. With the hot sale of leisure and fitness products in the world in 2020, Sampaxo is bucking the trend of growth and responding to the times! In order to make it, Sampaxo has been plowing for many years, accumulating profound technical accumulation, perfect manufacturing system and good industry reputation, and this time, with the all-round and panoramic new image, it will show the world its new style and surging ambition for future development.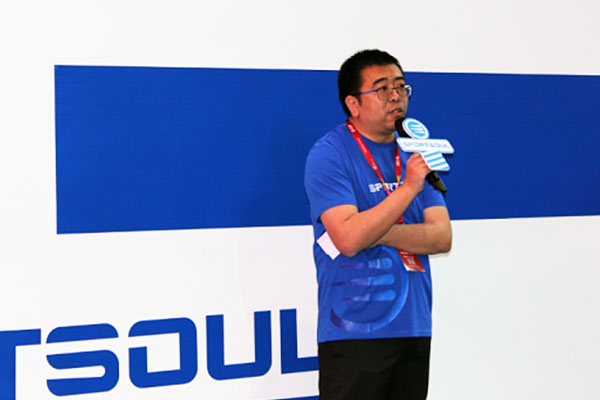 The company is actively exploring the domestic market, building an independent sports brand, launching family fitness products that better meet the needs of Chinese families, leading the new trend of family fitness, and providing consumers with leisure sports solutions for multiple age groups and multiple use scenarios.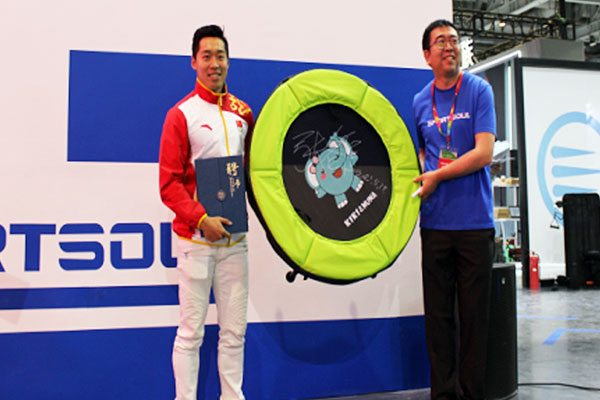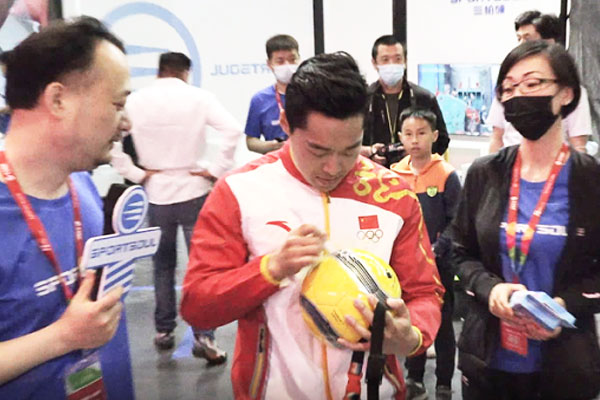 (Zhang Luo signed autographs for winning fans)
On the first day of the exhibition, the most attention of the Sampaxo brand exhibition area was the endorsement signing ceremony between Sampaxo and China's first individual champion of trampoline single jump in the World Games.
On the scene of the signing ceremony, Zhang Luo dressed in the national team uniform, interacted with the audience and demonstrated the use of trampoline skills, an exciting sight that attracted countless fans.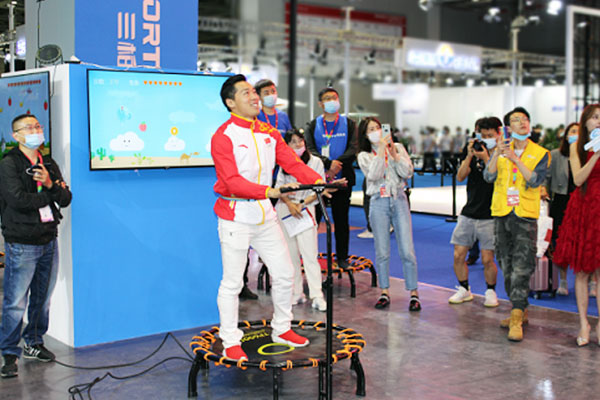 Zhang Luo: I'm very happy to join the Sampasco family. Trampolining means mission and honor to me. Since my childhood, I have loved trampolining very much, and because of this love, I am eager to drive more interest and attention to the trending sport of trampolining. I am honored to have the opportunity to realize this dream! I'm very excited about Sampaxo's "17 High" smart solution, which will surely make children more interested in sports, interact with the app, exercise using fun games, and pave the way for more world champions in the future.
New Product Launch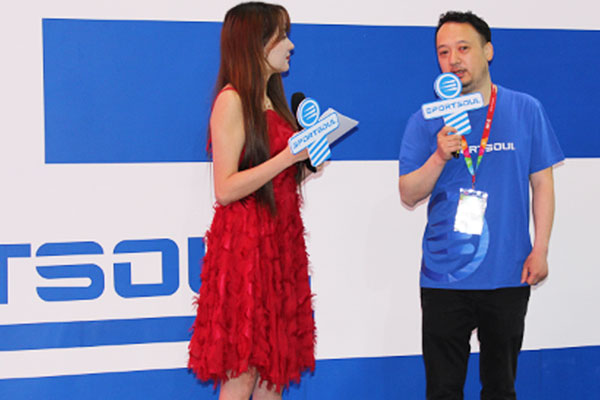 (三柏硕倪攀在产品发布会上接受主持人采访)
With the advent of the era of intelligent science and technology, Sampaxo has continuously increased its investment in research and development, actively carrying out research on various new technologies, new processes and new materials. In addition, Sampaxo has successfully developed a series of intelligent trampolines and other products that are the first of their kind in China. The "intelligent fitness/children's trampoline" independently researched and developed by Sampaxo is the leading intelligent product in China's trampoline field, which won the Excellence Award of the First National Sports Science and Technology Innovation Competition in 2019, and also the only award-winning product in China's trampoline category, and is also one of the few intelligent trampoline products in China that has independent intellectual property rights!
Nothing attracts professional visitors more than the product launch session, in which Ni Pan personally unveiled the latest smart product - "17 High".
Ni Pan showed the unique advantages of 17Hi from the four dimensions of product - intelligence, content, entertainment and service: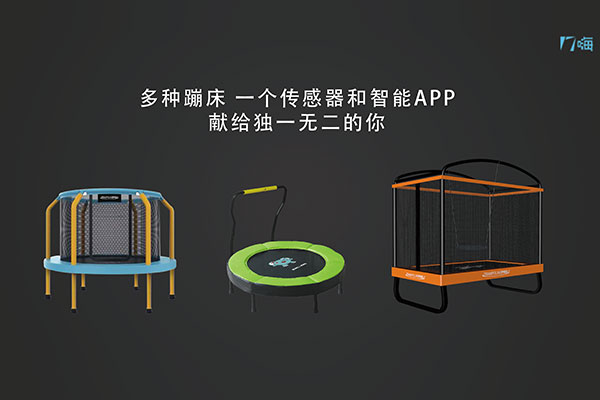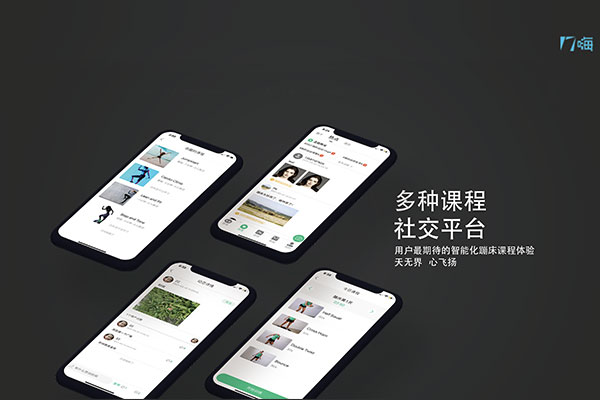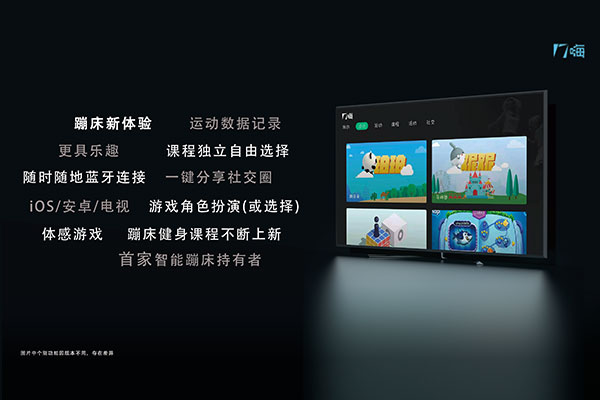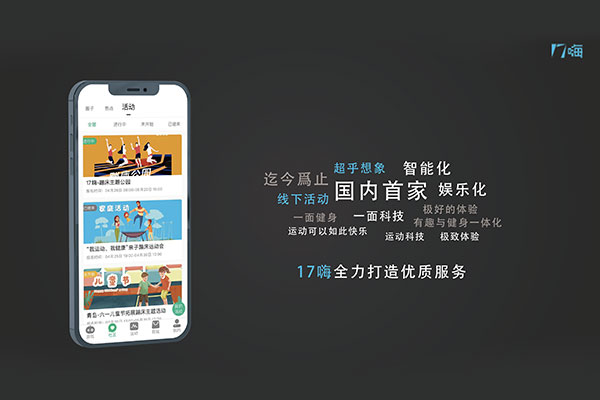 Intelligent: 17Hi can realize a set of solutions for many devices. Reporting and user data analysis in real-time.
Course Content: From playing around to playing well, 17Hi provides a whole set of advanced courses to learn how to control and exercise their bodies in an effective manner.
Entertainment: For fitness equipment, it is not enough to have an eye-catchy appearance and luxurious materials. 17Hi has been adhered to concepts of happy fitness while helping users develop a consistent exercise habit since the early stages of its product design.
Service: 17Hi will open up the sports scene from equipment to interaction and interaction to real interaction, so that the technology contains temperature and the temperature cultivates happiness.